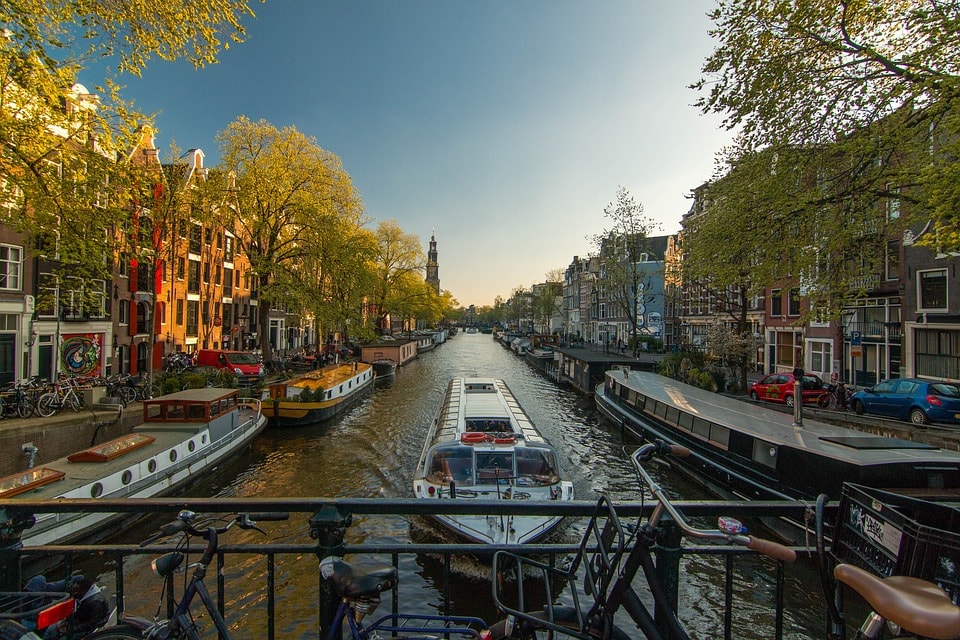 Amsterdam is one of Europe's finest cities to live and work in. When you have decided to move to this city, you definitely made the right choice. Amsterdam is a beautiful city with a rich cultural life and a huge international community. It does not matter if you are moving to Amsterdam from the UK, Ireland or India; everybody can feel right at home in Amsterdam. Moving to Amsterdam is an exciting step and there are a lot of important decisions you will have to make before settling down in this great city. You probably already wondered what you should know before moving to Amsterdam. To make life a bit easier we have created an expats guide that includes everything you need to know before moving to Amsterdam.
There is this old Dutch saying which goes, "Amsterdam is one of the greatest small cities in the world." And it's true!
Living in Amsterdam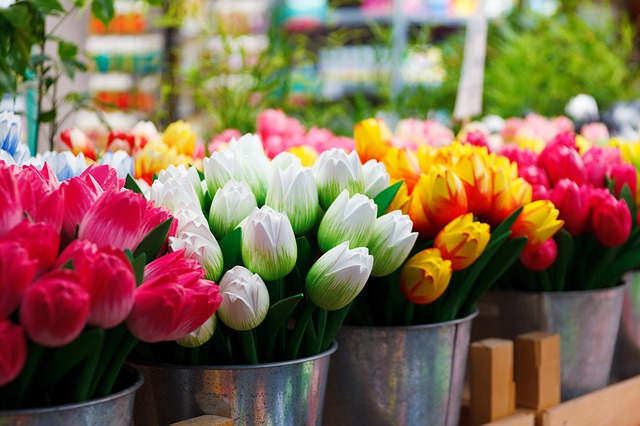 Go directly to:
Administration
The Dutch are famous for their bureaucracy, which can be difficult for foreigners at first, but do not worry! Relocating to Amsterdam is easier than you think, especially if you make use of our handy checklist. The first issue that needs to be handled is registering at your local embassy or consulate. The second action you should undertake is arranging a BSN (burgerservicenummer) at the municipality ('gemeente' in Dutch). This is the first step in the Dutch 'administration machine'; you will need this number for deducting taxes, using the healthcare system, taking out car insurance and applying for address changes. Luckily, the Netherlands is a well-developed country and these administration requirements can be handled very quickly. You just need to know where to go and what to bring along. We will make sure you are prepared and will give you some tips and advice along the way.
Registering at the municipality (gemeente Amsterdam)
If you plan to work and live in the Netherlands a BSN (burgerservicenummer) is mandatory. Once you have registered at the 'gemeente Amsterdam', you will receive your BSN number at your home address. A BSN number is required to open a bank account, to get a working permit and to use the Dutch healthcare system. There are two places in Amsterdam where you can register and receive your BSN number. Read more about how to obtain a BSN at our administration page.
Moving with your pet
It is of course not a problem to bring your pet to Amsterdam, but there are some things you need to take into consideration. It is important that your pet meets all the vaccination standards required in the Netherlands and that it has a valid pet passport. In the Netherlands, it is mandatory for dogs and cats to have an identity chip under their skin.
Dutch bank account
One of the most important things to arrange, before moving to Amsterdam is a Dutch bank account. It will save you some of the trouble when you arrange this beforehand. Not only Landlords will ask for a 3-month income statement of your bank account, but also mobile and internet providers will ask for you Dutch bank account number during the sign-up process. If you want to know more about the different banking options you have in the Netherlands have a look on our page about Dutch banks. If you want to open anything other than a savings account you may also need evidence of income, like an employment contract for example. When you open a private bank account ('privérekening' in Dutch) you will receive a card and a four-digit PIN code. Dutch customers buy more with direct debit cards than cash and it is currently the most common method of payment in the Netherlands. The Netherland has an increasing number of stores that don't accept cash, it is, therefore, important to have your debit card or credit card on you at all time.
Best internet provider
All internet providers in the Netherlands provide good connection and good customer services. Not everyone is the same internet user, and it is therefore important to know what your needs are before signing the contract. Do you watch a lot of movies, or do you just use Google or Facebook? In that case, you won't need a very fast downloading speed, which means you will have to pay less. We have selected the best internet providers that offer transparent and clear contracts to non-Dutch speakers. There are a lot of different providers on the market, but with our help and tips this decision will be less complicated and you will be done within a few minutes. There will be enough time left to enjoy this lovely city!
Best mobile provider
The Netherlands is one of the market leaders when it comes to mobile telecommunications and there are a lot of different mobile providers on the market. You can choose between a contract (abbonnement in Dutch) or a prepaid card. Choosing a mobile contract however, can save you costs because the longer the contract, the less you have to pay. Using your current (non-Dutch) contract can be costly on long-term since you will be charged for incoming and outgoing calls. Roaming will also get really expensive and that is why it would be smart to get a mobile contract or a prepaid card.
Tip: If you are not staying that long in Amsterdam it would be sufficient to get yourself a prepaid card, otherwise you will be obliged to fulfill your contract.
Housing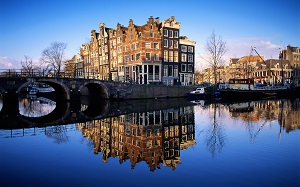 Not an unimportant topic is housing in Amsterdam. It is not easy to find a well-priced apartment in the area you want; consider taking some time to explore your options. Like in almost every big city the central areas are more expensive to live in, but also offer you the best experience of the Amsterdam life. There are at the moment more people searching for apartments then there are apartment available. If you are already in contact with people living in Amsterdam it would be definitely worth wile to contact them in time so they can arrange a flat or apartment for you.
Neighborhoods of Amsterdam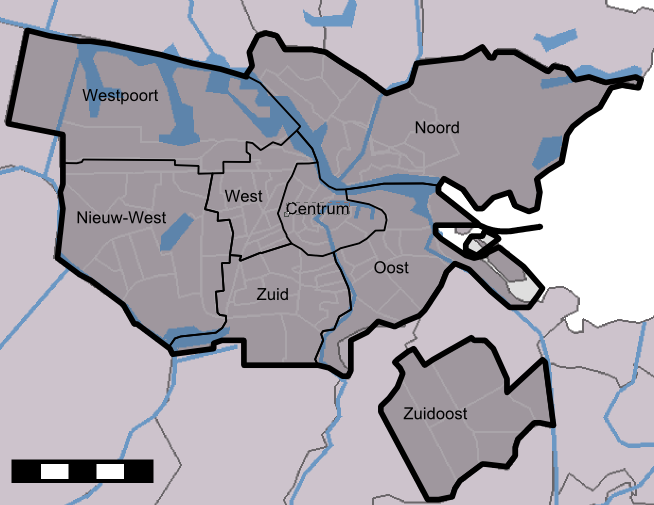 Amsterdam is one of the most vibrant cities in Europe and it offers a cosmopolitan spirit like nowhere else! The most famous among tourist is central Amsterdam, which is well known for the red light district and the coffee shops. Although this is the most visited place in Amsterdam (by tourists), not a lot of Dutch people live or go there. There are a lot of different neighborhoods in Amsterdam each neighborhood has its own identity. Anywhere in Amsterdam around the ring of canals (de Grachtengordel) is quite expensive. If you search outside of this area the prices will go down.
Tip: One of the hippest and best places to live and hang out is the Nine Streets (negen straatjes), de Jordaan en de Pijp. One of our favorite neighborhoods in Amsterdam is 'de Pijp' (South Centeral Amsterdam). This is a vibrant and spacious neighborhood where a lot of expats, students and artist find their way around Amsterdam. Another upcoming neighborhood which is becoming more popular among expats is 'Oud Zuid' (Old South), a neighborhood with offers good access to international schools and private- housing.
Hotels in Amsterdam
From world-famous buildings and picturesque canals to trendy clubs and popular markets, there really is something for everyone in Amsterdam. You can always come over for a visit if moving to Amsterdam is a serious option for you but you are not completely sure. There are enough affordable and beautiful hotels in the city centre of Amsterdam. Amsterdam offers a wide range of budget hotels, business hotels, and luxury hotels. If you are not sure about moving to Amsterdam, maybe you should come over for a visit first!
Dutch culture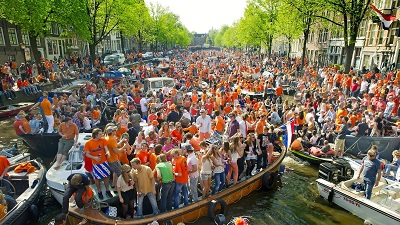 What is not to love about the Dutch culture?! There is a lot to discover in the Netherlands and Amsterdam is the perfect place to start. Amsterdam is the cultural capital of the Netherlands and there are many historical highlights in Amsterdam. The Dutch are an interesting breed of people and if you arrived as a single- no worries; there are a lot of dating sites and other opportunities in the Netherlands. Above all, the Dutch are pragmatic people. You can always trust a Dutch person to tell it like it really is and go straight to the point. Body language is in the Netherlands of high importance. If you meet somebody for the first time it is normal to greet with a handshake, but if you know the person or you are long-term friends it is normal to give a 3-point kiss. The Dutch keep strict agendas and it is an absolute must to come on time. Punctuality is something that is embedded deeply in the Dutch culture; it keeps the Dutch society ticking.
The Dutch are famous for their bargain hunting. If you want to start your own shop in Amsterdam it would be smart to put signs on the window with 'uitverkoop' (sale) or with 'nu in de aanbieding' (special offer). This will guarantee that your shop will be filled with Dutchies within a matter of minutes. One other characteristic of the Dutch culture is that they are modest. Most Dutch people do not like to draw to much attention to them. It is very common to downplay wealth and they do not speak openly about (business) successes that they have had.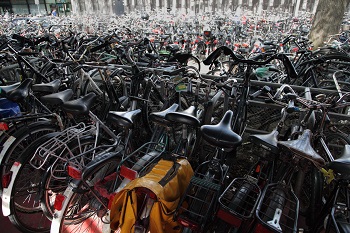 Biking is a core part of the Dutch culture. One of the first things someone should do when just moved to Amsterdam is buying a bike. You can get a bike relatively cheap and it is easier to navigate through traffic than with a car. One of the main benefits of having a bike in Amsterdam, is that it keeps you healthy and you can get anywhere in the city center in between 20/30 minutes. Just keep in mind to buy a good lock because bikes get stolen relatively fast in Amsterdam, so do not save money on this end.
The Dutch language
It is possible to muddle your way through Amsterdam with only speaking English. Within the city center, almost everybody speaks English. Only if you go outside of the city you will need to know basic Dutch to get around. Dutch can be a difficult language to learn at first, but it is probably the easiest foreign language to learn for native English speakers. Given the common roots, the Dutch, German and English vocabulary bears some similarities. The Dutch language enriched itself with 'stealing' words from all over the world and also French and Hebrew can be overheard in the Dutch language. Dutch is a strange language, weird but wonderful. The only way to learn it properly is to dive into the language itself and have fun while doing it. Veel success!
Iamsterdam
Amsterdam: a city that is clean, safe and free-spirited. The people are very polite and open for newcomers. Imagine paying in some cases 52% of taxes and still be fine with it? This is the reality for many expats living in Amsterdam. The services that the Dutch government therefore offers are generous. Moreover, the basic health insurance is cheap and schooling is good. If something happens to a Dutch inhabitant, the system is in place to take care of their family and surroundings.
The Netherlands is in the top 5 of the happiest nations worldwide for some years now. The expats living in Holland seem to agree with that, they ranked the Netherlands the 6th best place in the world to be an expat. Like London and Berlin, Amsterdam has a huge start-up scene which offers all kind of jobs for a wide variety of job seekers. Amsterdam is also the biggest student city in the Netherlands and that is why it is full of young and vibrant people with all kind of different backgrounds. Living in the Netherlands is great! Amsterdam is a city where you dreams and desires can become reality. Why wait any longer, move to Amsterdam!