Mobile providers in the Netherlands
It is always difficult to choose the right mobile operator when you move to another country. Roaming is an option if you have an existing contract in another country- on long-term however, this could become expensive. It is important to know the mobile operators, who is who and what are the rates of the contract. Comparing all mobile operators can take up a lot of your time. With our tips we will ensure that you will sign-up for the best operator. We have only selected the mobile operators that offer transparent and clear contracts to non-Dutch speakers.
List of mobile operators in the Netherlands
What are the best mobile operators in the Netherlands? And, which of them offers the best mobile network in the Netherlands? We have listed below the most frequently used mobile internet providers in the Netherlands.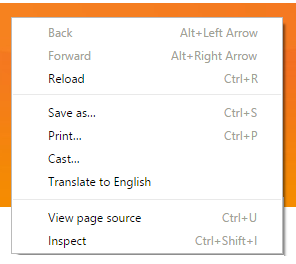 TIP:
when you land on a Dutch website that offers mobile contracts, make a right mouse-click anywhere on the page (only works with Google Chrome!). A small dropdown menu will appear and then it will say; "translate this page to English" (or any other language). This will make it better understandable and easier for you to make the right decision!
These mobile operators all offer different options and packages which can vary in price. Comparing all mobile operators can be time-consuming. We have listed the most reliable mobile operators below. When you have found the right provider, be sure to buy the mobile subscription online. This is often cheaper than in a store. We have listed some other tips and tricks at the bottom of the page to ensure that the sign-up process goes as smoothly as possible.
---
Prepaid
The mobile network in the Netherlands is excellent and you have plenty of choice when it comes to choosing a mobile provider. When you are looking for a prepaid SIM card for your phone keep in mind that you will have pay more for phone calls and internet services. If you are staying for a short time in the Netherlands however, this could be something worth considering. If you are planning to stay longer than one year, acquiring a contract is the right choice for you. The longer the contract, the less you have to pay for the phone and the better conditions you will get.
Roaming in the Netherlands
Recently the roaming rules changed within the EU. The new "roam like at home" rules mean that when you use your mobile phone while travelling outside your home country in any EU country you don't have to pay any additional roaming charges. The new rules are intended for people who visit a country for a short period of time – it is not meant to be used for permanent roaming . If you are planning to stay for a longer period in the Netherlands, we strongly advice against roaming since you can get a big fine if you get caught.
---
Youfone

Being active for more than ten years, Youfone is providing the smartest Sim-only deals with a reliable KPN network. You can enjoy superfast 4G internet now, at € 0 connection cost. The company is offering all the Sim-only plans at a discount of € 15. Youfone also gives you the facility of compiling your desired plan as per your requirements. The MyYoufone app gives you insights into your usage and also allows you to activate discount bundles quickly.
If you already have a Sim-only subscription and looking to convert it into Youfone, the company also gives you the facility of free number portability.
Different Internet Connections That They Offer
5GB + Unlimited Min/SMS – If you do calling and messaging more, and your internet usage is less, then this plan is ideal for you. At €11, Youfone lets you enjoy unlimited calling and SMS, and 5GB data. The plan is under a subscription of two years.
7GB + Unlimited Min/SMS – If you are an average data user and do unlimited calling and SMS, then you can avail this plan at € 14 with two years subscription.
10 GB + 50 Min/SMS – If your work involves fewer calling and more data usage, then this plan will best suit your requirements. Youfone offers it at € 12 with a two years subscription.
Why They Are Better Than Others
Expats prefer Youfone because they provide their customers with:
Customer-friendly services
Affordable plans
Premium KPN network
Fastest 4G network
---
Lebara

One of the oldest companies in the UK regarding mobile services, Lebara has come a long way. What makes the company unique is its promising and affordable rates. The website is completely in English – which makes it easier to make the right choice.
For those having friends and family abroad, sometimes finding a decent network is way too hard. Thankfully for you, all Lebara specializes in international sim-only deals and offers a plethora of data options for the users.
Proudly claiming as one of the trusted companies in the UK and the Netherlands, Lebara has many other offers in the SIM-only option, which is explained below. So let us check them out!
Why is the sim-only option of Lebara best?
What most of you do not know is that the Lebara SIM-only option offers unlimited service for 24 months at an activation fee of €9. Apart from that, there is also a monthly rolling option valid for 30 days at only €10.
Other plans offered under the sim only option of lebara:
Bundle Option: The Bundle option is one of the most popular SIM-only options under Lebara. There are different plans rolled out under this option:
1 GB plan: €6
2 GB plan: €7.50.
5 GB plan: €9
7 GB plan: €13.
10 GB plan: €15.
Apart from that, there are also calling, texting, and international calling offered under the plan.
---
Odido
The largest mobile operator (after a recent merger) in the Netherlands offers clear and simple contracts to their customers and do not get them stuck with the long-term contracts. Odido offers a Sim-only subscription with a 4G & 5G network throughout the country and that too at a much affordable rate. You can also enjoy free up and downgrade every month.
If you are planning to go on a holiday away in Europe, Odido Sim-only plans are valid there too. Though the plan remains active, the data pack gets reduced. When you are out of the Netherlands, the 20 GB data or the unlimited data packs get limited to 12 GB data.
Different Internet Connections That They Offer
Select your preferred data bundle from 1GB, 7GB, 20 GB, or unlimited data at the respective cost of € 7, € 12, € 15, and € 20.
Depending on your calling and SMS usage, you can either select 200 call/SMS at € 2 or unlimited call/SMS at €5.
You can select 24 months subscription at € 0, 12 months subscription with an additional € 1, and if you opt for a monthly terminable subscription, it would cost you an additional € 2.
Why Odido is better than others
Free number porting
Superfast 4G network throughout the country
Monthly terminable subscription
---
Why opt for a sim only in the Netherlands?

If you don't require a new phone, SIM-only plans are very alluring due to their numerous advantages. If you're considering getting a new phone contract and believe a SIM-only plan would be preferable.
Since you are not purchasing a phone in addition to your data plan, SIM-only plans in Holland are often far less expensive than smartphone plans. So, for anyone who presently owns the newest smartphone or is content with the phone they presently have, SIM-only plans are a terrific option.
In SIM-only plans, calls and text messages are affordable and frequently limitless. Many SIM-only deals only have pricing variations based on how much monthly data you want to be included in your package.
By encouraging users to reuse their old phones from plans or buy a phone outright rather than continuously upgrading to a brand new one, SIM-only offers help minimize electrical and plastic waste.
How do I switch to a SIM-only tariff?
Switching to a SIM-only tariff is easy and straightforward. You simply need to contact your service provider and ask them to switch you over. Often, you can do this quickly and easily online or over the phone. However, you may need to provide certain information, such as your current contract details, before making a switch. You may also need to give your new SIM details and payment information. Once the switch is complete, you will have access to your new contract and can start using it straight away.
---
Tips and tricks
We have listed some tips and tricks to ensure that you will find the mobile operator that fits to your needs. These tips and tricks will ensure that the sign-up process will go as smoothly as possible.
Be sure that you find a SIM Only contract that fits to the duration of your stay in the Netherlands.
Be sure that your mobile phone is unlocked and that your phone can switch to another carrier.
Be sure to buy an additional headset or car kit if you own a car, since using your mobile phone while driving is illegal in the Netherlands.
Be sure that you have the following nearby during the sign-up process: proof of identity and bank account details.
Be sure to buy your phone subscription online- this is often cheaper than in a store.